AIBO swimming pool filters
GB Series Filter
These filtration systems with top-mount filters and self-priming centrifugal pumps are constructed by the latest engineering technology. Fiberglass reinforced tank with unequaled strength and durability.

Feature:
1.Easy to install
2.AIBO filtration system is equipped with the most optimal combination of our filter and pump.
3.Injection -molded mounting base makes filtration system work more stably.
4.Unitized thermal plastic inner tank with fibreglass twining around outside, much more strong, durable and suitable for many different weather conditions.
5.Circulation pump with good performance, corrosion-proof and quiet.
Detailed Photos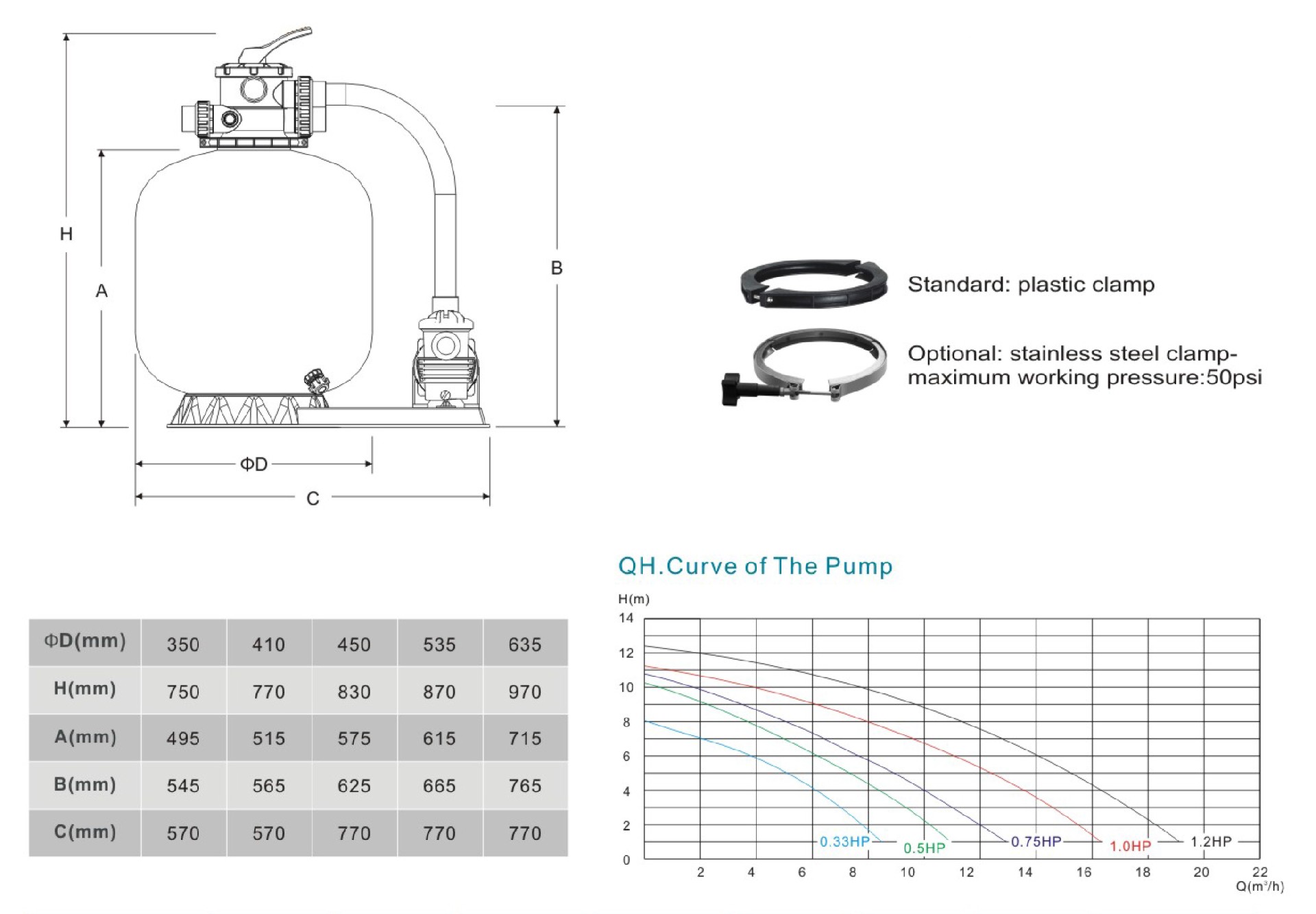 Model
Pipe Size
Filter Area(m2)
Design Flow(m3/h)
0.5-0.8mm Sand Weight(kg)
Tank Volum(m3)
Tank Weight(kg)
Valve Weight(kg)
Matching Pump (HP)
inches
mm
m³/h
lpm

GB350

1.5

50

0.1

4.5

75

25

0.06

4.5

3

ESP-033M

GB400

1.5

50

0.13

6.5

108

34

0.09

5.5

3

ESP-033M

GB450

1.5

50

0.16

8

133

50

0.15

7

3

ESP-050M

GB500

1.5

50

0.23

11.5

192

80

0.2

9.8

3

ESP-100M

GB650

1.5

50

0.32

16

267

160

0.32

13

3

ESP-120M
MAXIMUM WORKING PRESSURE:36psi/2.5kg/cm2
MAXIMUM OPERATING WATER TEMPERATURE≤50ºC
MAXIMUM TESTING PRESSURE:58psi/4.0kg/cm2