DYG Series Filters
The integrated circulation,filtration and sterilization unit is assembled with AIBO plastic sand filter,circulation pump and chemical feeder. The unit is a multifunctional system assembled with precision,simple to operate,easy to install.It's the optimal choice for filtering movable and inflated pools.

Features:
-Easy to install
-AIBO filtration system is equipped with the most optimal combination of our filter and pump.
-Injection-molded mounting base makes filtration system work more stably.
-Unitized thermal plastic filter tank, tough, durable and suitable for many different weather conditions.
-Circulation pump with good performance, corrosion-proof and quiet.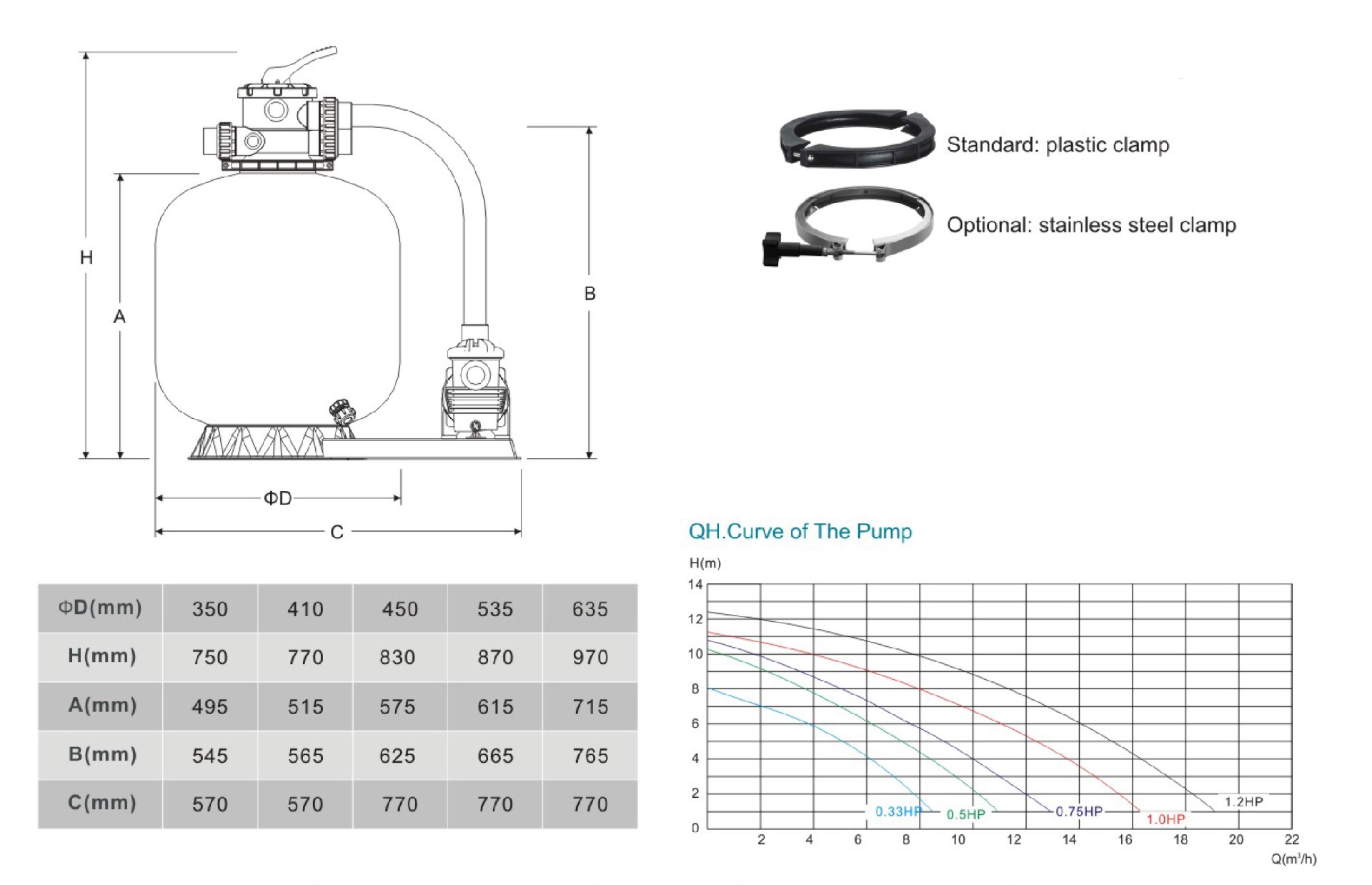 Model
Pipe Size
Filter Area(m2)
Design Flow(m3/h)
0.5-0.8mm Sand Weight(kg)
Tank Volume(m³)
Tank Weight(kg)
Valve Weight(kg)
inches
mm
m³/h
lpm

DYG350

1.5

50

0.1

4.5

75

25

0.06

4

3

DYG400

1.5

50

0.13

6.5

108

34

0.09

5

3

DYG450

1.5

50

0.16

8

133

50

0.15

6.5

3

DYG500

1.5

50

0.23

11.5

192

80

0.2

9.2

3

DYG650

1.5

50

0.32

16

267

160

0.32

12.1

3
MAXIMUM WORKING PRESSURE:36psi/2.5kg/cm2(PLASTIC CLAMP)
MAXIMUM OPERATING WATER TEMPERATURE≤50ºC